FULL METAL MARKETING
Finally, a full-service marketing agency for high quality manufacturers, fabricators, artists, and inventors who make our world work. Marketing by entrepreneurs for entrepreneurs. We love metal. We love wood. We love what you do. Let us tell the world about it.
Building Your Base
Your products may be metal and wood, but your customers are online. To connect with them, you need a digital marketing strategy that will help you find eyeballs, turn them into fans, and turn fans into customers.
Telling Your Story
Your products are special. Derived from creative expression and years of experience, they are forged to stand the test of time. They require passion, precision, and POWER. We love your products. And there is a story behind every one of them. Let us tell the world.
Growing Your Business
Stories are fine. Marketing is fun. But unless it turns into sales, what's the point? FMM has over 30 years experience growing businesses just like yours. Let us help you grow yours.
Marketing Strategy
You don't build your products without a well-constructed plan, so why would you try to sell them without one? Let our team apply our 30 years of experience to optimize your custom growth strategy.
Digital Domination
A website is only the beginning. To create new followers, turn followers to leads, and convert leads to dollars, you need to execute better than your competition in all facets of the digital marketplace.
Real World Engagement
You sell products that are meant to be touched, used and enjoyed. Creating real-world interactions between your products and potential customers is key. FMM will help you create events that will pay dividends for years to come.
Measure Your Results
Every penny of your marketing investments needs to be accountable. Each dollar must have a purpose. And being able to measure your ROI of these investments is critical ... especially when it comes to your agency.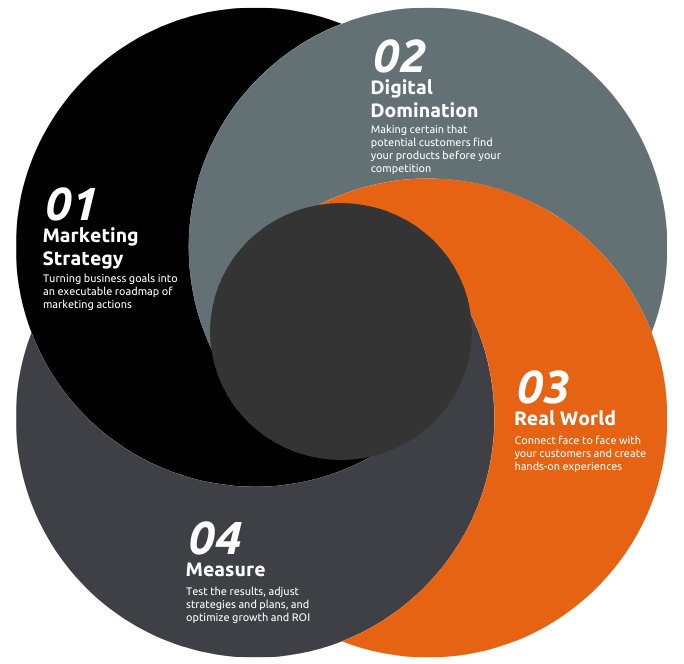 What our clients say
"We have been working together since 2009. FMM has helped with our website, Industrial videos, photos, social media and events. Their assistance with large shows like SEMA to our local Safety, Fasteners, Equipment and Material Handling audience has been invaluable. We have partnered with FMM to assist our sports marketing racing programs and enhance our ten year partnerships with TV's Overhaulin' and 30 plus other cool TV shows & movies. FMM has definitely been an asset in building our brand, working with 30 different TV shows and Talent in testing and improving our product."

Pete Kiscunas

President | Industrial Depot

"I met the FMM team at SEMA on the Overhaulin build in 2006. Soon after, we worked on another show building the Steve McQueen Ford Mustang at Gateway Classic Mustangs. Once I moved to North Carolina, I started working with them as a spokesperson for Jet Equipment and Edwards Ironworkers. Now, FMM has partnered with my new company, Forge Speed, and I look forward to working with them to build my brand. They don't just talk the talk. FMM knows custom rides and they have a passion for the industry."

Darrell "Hot Rod Elvis" Johnston

Founder | Forge Speed

"I originally met the FMM team when we were both involved in the Overhaulin builds and discovered we shared the same passion for fabrication, design and building. Working together since 2010 on videos and marketing projects, FMM has been flexible and easy to work with over the last decade. They get what I need, understanding manufacturing, fabricating and construction building. "

Eugene Moon

Retail Marketing Manager | Lincoln Electric